Slideshow
Other top rated products
Filter Reviews
Blend
Ingredients
Smell
Taste
Feel
Energy
Alternative
Bliss
Chai
Drink
Cup
Tea
...
Cacao Bliss
Spices
Almond Milk
Treat
Cinnamon
Earth Echo Products
Version
Addition
Bites
Foods
Latte
Sipping
Blend
Ingredients
Smell
...
5.0 star rating

4.0 star rating

3.0 star rating

2.0 star rating

1.0 star rating
Clean Cup of Fall
Review by Michelle P. on 14 Oct 2021
review stating Clean Cup of Fall
This feels like fall in a cup! I️ made Mine with steamed almond milk and organic coffee. Blended into a perfect chai latte that is healthy and good for me. No regrets after drinking it every morning.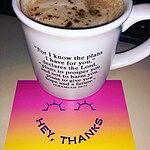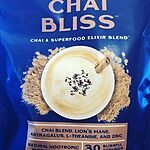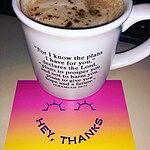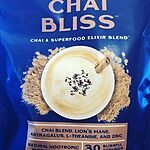 ChaiBliss cloud9
Review by MAURAKAE B. on 23 Mar 2022
review stating ChaiBliss cloud9
🌟I love ChaiBliss🌟 ! It's deliciousness and health benefits are outta this world🌞✨🌌☄️💫! I'm hooked for sure 🤩:u1F1FA::u1F1F8:
I've been consuming ChaiBliss since it's first launch 🚀 … I am super excited about the Collagen Peptides (happy to the moon and back that I got it FREE with my last eat ChaiBliss purchase).
All EarthEcho products bring me price of mind because of the quality natural organic non-nonsense ingredients. I'm diabetic so the low sugar/carb aspect is like living a dream of goodness for my body's bloodSugar 🙌
Thanks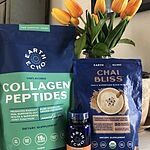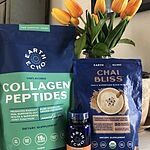 My new daily habit. Such
Review by Tina Y. on 13 Oct 2021
review stating My new daily habit. Such
My new daily habit. Such a treat that I look forward to! It brings a smile to my face, health and healing for my mind and body, and lifts my spirits!!
The Chai Bliss spices waft
Review by Martha U. on 10 Oct 2021
review stating The Chai Bliss spices waft
The Chai Bliss spices waft out of the mug and provide warmth and comfort before I take a sip. I would like more chai flavor and a little less nutmeg, but that is just a preference.

I made the Chai-Spiced cheese bars and the chai bliss definitely made it incredibly delicious.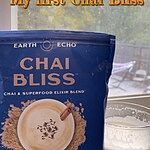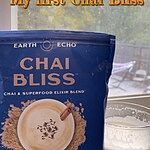 Chia bliss
Review by Sharon R. on 19 Nov 2022
review stating Chia bliss
It's a unique taste but it's alright as long as it's good for my body
Q: How much caffeine is in the chai bliss
A: Hi Karen! Chai Bliss has less than 0.0425mg of caffeine per serving which is super low amount. 🤎
Q: Is there caffeine in this? How much in each serving?
A: Hi Jen! Chai Bliss has less than 0.0425mg of caffeine per serving which is super low amount.🤎
Q: Which liquid do you mix it with when it says avoid water, almond milk and coconut milk? What is left?
A: Hi Karla, please know that you can mix Chai Bliss with water, almond and coconut milk. This is included on the instruction provided on the label. 💙 Much love!
Q: I am concerned about the warning label for heavy metals on this product. Does your manufacturing process test for heavy metals?
A: Hi Kathy, the Prop 65 statement is required by law in California to contain that warning if the product has anything from the earth or ground as it could contain very trace amounts of metals. Our products are certified USDA organic - which requires passing strict testing for heavy metals, pesticides, herbicides, fungicides, phthalates, plastics, & many other chemicals commonly found in the soil of the crops & in turn the finished products. Our crops are routinely tested as well as every single batch of the finished product to maintain our organic seal. The warning scares and confuses a lot of people; unfortunately, it is a law & in a way is great because it makes people dig deeper into & learn about what they're putting into their bodies, wearing on their skin & using in their homes. The prop 65 warning is on everything in California, even an unbleached organic cotton t-shirt, light bulbs, or a box of certified organic lemons as they grow on trees that get its nutrients from the ground/earth! I hope this has helped you to understand more about the Prop 65 warning. 🤎🤎
Q: How much caffeine is in each serving?
A: Hi Cedar, Chai Bliss caffeine content is