Slideshow
Other top rated products
Filter Reviews
Box
Gift
Container
Cacao Bliss
Quality
Jar
Packaging
Taste
Feel
Size
Favorite
Bliss
...
Mug
Recipes
Order
Canister
Cacao
Chocolate
Offer
Cup
Deal
Frother
Powder
Addition
5.0 star rating

4.0 star rating

3.0 star rating

2.0 star rating

1.0 star rating
Love This Product!
Review by Pam S. on 2 Oct 2020
review stating Love This Product!
I have tried many brands of cacao and this will be the only brand I will purchase going forward. So smooth and delicious. The ceramic storage jar with lid and bamboo scoop, the mug, and of course the recipe book with amazing easy to make recipes, was just an added bonus. And bonus they were. Highly recommend this product.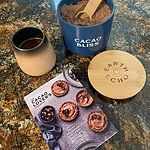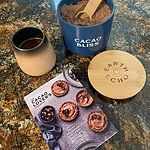 Love everything in the box.
Review by Amy M. on 6 Nov 2022
review stating Love everything in the box.
Love everything in the box. It tastes great too!
2nd Bliss Box.
Review by Sherry M. on 26 Oct 2022
review stating 2nd Bliss Box.
This is my 2nd Bliss box. I love that the ceramic jar is blank so I can use it for island bliss and not confuse it for my cocao bliss.
I absolutely love the cacao
Review by Lora D. on 23 Sep 2022
review stating I absolutely love the cacao
I absolutely love the cacao bliss I put it in my coffee every morning and I have it mid afternoon too
I love Cacao Bliss
Review by Mariza D. on 1 Sep 2022
review stating I love Cacao Bliss
I love Cacao Bliss! I used to crave snacks at bedtime which held me back from weight loss. Since Cacao Bliss, I kicked the late night treats and replaced with a whipped ceremonial glass of Almond milk and two scoops of Cacao Bliss heaven! I now have a subscription so I never run out! Can't wait to try out the free recipe book full of goodies!
Q: How much is in the monthly pouch?
Can you do every other month or get a different product every month?
A: Hi Leigh! You'll get 30 servings in one pouch each month. We can also modify your subscription to receive it every other month. Subscribe on other products and we'll do the same. Kindly check your email for further assistance. We've sent you a separate email too. 🤎 Much love!
Q: can you send to Newfoundland, CA?
Q: Can you change to every other month instead of monthly?
A: You can easily adjust your subscription frequency by logging into your Shopify account and editing your subscription details; you can also email us at
support@earthechofoods.com
and we're happy to help.
Q: What if I don't like the Cacao Bliss, can I cancel my Cacao Bliss refill subscription?
A: Yes, you can cancel a subscription at any time!
Q: Monk Fruit has an ingredient that caused me to have severe gas pains (erythritol). Does the cacao bliss have this ingredient?
A: Cacao Bliss does contain monk fruit!