Island Bliss: Nature's Energy Drink

Introducing our newest and most anticipated superfood blend ever. Formulated for a smooth, consistent "all-day" energy just the way mother nature intended. Island Bliss helps restore your vitality by boosting your natural energy levels no matter how active your lifestyle is. Unlock the natural flow of harmonious energy that you deserve with the tastiest green drink you've ever tried.

See what this delicious, energy boosting green drink can do for you.
Energizing In A Way You've Never Experienced Before

Give your body the support it needs to create lasting energy with Island Bliss. This delicious powder provides a synergistic blend of organic Spectra, probiotics, organic greens and fruits, plus a natural marine mineral complex all designed to lift your energy, and keep it there all day.*

Support For The Busy Days That Won't Let Up

Fill your body with stamina on the busy days when you need to perform at your best. Island Bliss is the simple way to support your body's natural flow of energy with a blend of nature's most pro-vitality superfoods. Say goodbye to afternoon slumps and say hello to the most productive you.

Ingredients That Are Good For You And Good For The Earth

Island Bliss is made from ethically sourced ingredients for easy absorption and fast results. That means you get a product with quality, eco-friendly ingredients that are good for you. 
Island Bliss comes in a fully recyclable pouch which means you get the peace of mind that you made an excellent choice for our wonderful Earth and your personal vitality.
Plus, every single product you purchase helps plant at least one tree through our various partnerships.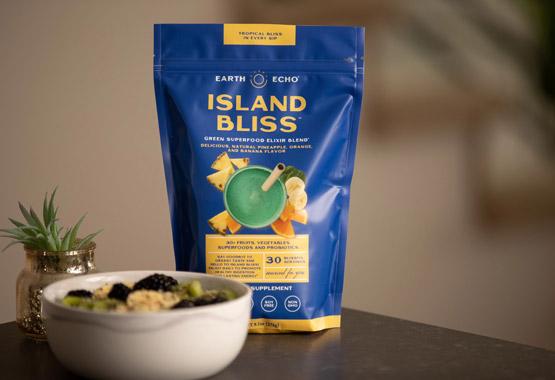 Island Bliss Was Made For All-Day Energy

For long days at work, busy days with the family, and to-do lists that never seem to end, Island Bliss will help you thrive from sunup to sun down. It works with your body to boost your energy, zeal, and vitality with the best ingredients Mother Nature has to offer.
Sporting a unique blend of superfood formulations, Island Bliss helps you realize your full potential by supporting your gut health, metabolism, and a "can-do" attitude during life's biggest challenges.
That way you can have the energy you need to enjoy life's precious moments.

Minerals From The Pristine North Atlantic Seabed
Certain areas of the North Atlantic are considered some of the purest waters on the planet. So it only made sense to include Aquamin™ in Island Bliss.
These marine minerals were harvested for health and included to give you calcium as well as other trace minerals to serve as the foundation to a healthy, more vigorous version of yourself.*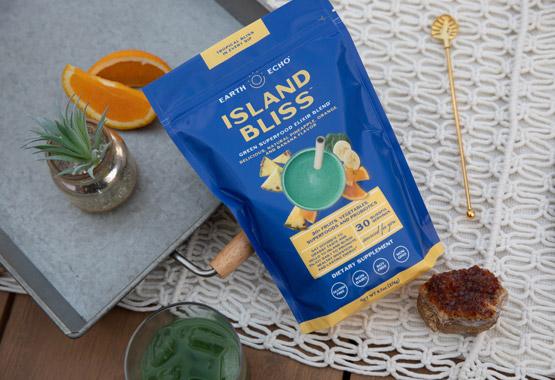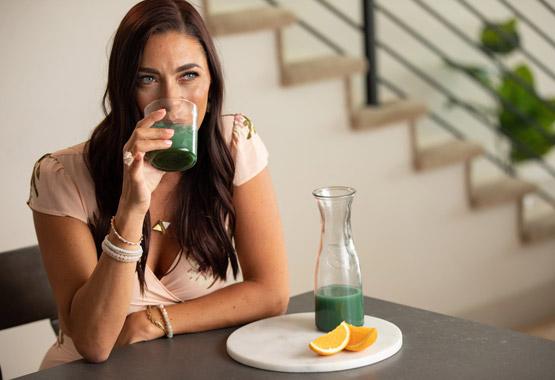 Organic Spectra™ For Never-Quit Energy and Focus

When you read the label and see a proprietary blend of ingredients like CoffeeBerry®, pomegranate extract, and organic acai you know you're getting the raw materials you need to make every day your most productive.
Enjoy nature's most powerful eco-friendly superfruit harvested to preserve its natural goodness so that your to-do list runs out long before your energy ever does.
How To Get The Benefits Of Island Bliss
Pour one full scoop of Island Bliss powder into a smoothie, juice, or drink of your choice at the start of each day that you want to experience maximum energy and productivity.
It's easy to mix and the taste is so delectable that many choose to mix it directly in a glass of plain water. We're excited for you to add Island Bliss to your daily routine so you can experience firsthand the limitless possibilities when you're operating beyond the limits of your potential.
Here's to a more energetic you.